August 2020 Market Update
Spring is on its way and that means that there are only weeks to go until we traditionally see the property market heat up. Amid unprecedented economic uncertainty, Australian house prices are so far holding up, but the longer-term view remains unsure. But despite these uncertainties, if you are in a good financial position, right now could be a good time to get onto the property ladder. Here's our latest market news and insights.
Interest rate news
The Reserve Bank of Australia (RBA) announced it has decided to keep the official cash rate unchanged at 0.25 per cent at its meeting on the 4 August.
RBA governor Philip Lowe said that while Australia is experiencing its biggest economic contraction since the 1930s, the downturn is not as severe as earlier expected and a recovery is now underway in most of Australia. The recovery, however, is likely to be both 'uneven' and 'bumpy' as the country's second biggest state locks down to fight a resurgence of the coronavirus.
Home value movements
Home values continued to decline on its third month, falling by 0.6% in July as the sales activity consistently improved since May. The Home Value Index report from CoreLogic shows the estimates for national sales over the past three months were tracking 2.9% higher than the same period last year. Tim Lawless, CoreLogic's head of research, said "The impact from COVID-19 on housing values has been orderly to-date, with CoreLogic's national index falling only 1.6% since the recent high in April and housing turnover has recovered quickly after it's sharp fall in late March and April."
Recovery in auction market was seen through June and early July but weakened since Melbourne moved back into lockdown. Melbourne's housing market has posted the largest fall over the month, down at -1.19% in July. Home values were also down in Sydney (-0.87%), Brisbane (-0.35%), Perth (-0.60%), Darwin (-0.33%) and Hobart (-0.20%) but rose in Canberra (+0.59%) and Adelaide (+0.05%).
Property market activity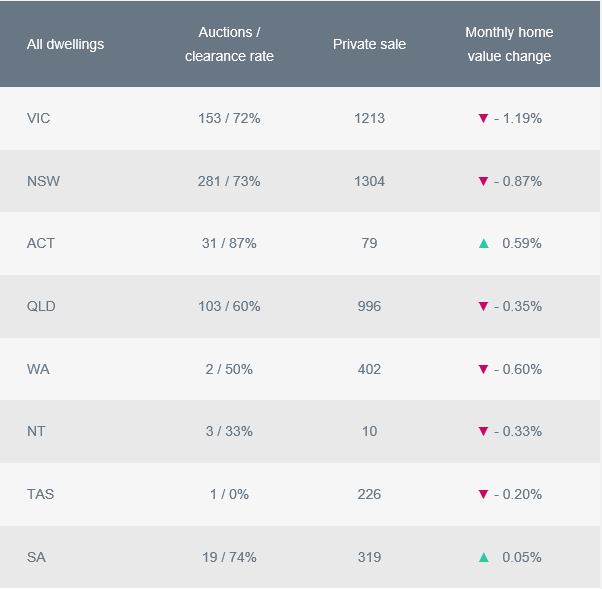 * Monthly Home Values figures as at July 31, 2020
* Australian auction results, clearance rates and recent sales for the week ending August 2, 2020. The clearance rate is preliminary and current as at 10:14 am, August 3, 2020.
Fornaro are ready to assist you achieve your Property Goals
If you're interested in making a purchase, it is important to undertake extensive research and preparation. Now is the time to speak to Fornaro about a pre-approval on a home loan, which will put you in a great position to act fast and negotiate when the right property comes up for sale.
Additional Sources:
This article is for general information only.