June 2022 Market Update
In what was the biggest one-off rate hike in 22 years, this month the Reserve Bank of Australia (RBA) increased the cash rate to 0.85 per cent in order to curb skyrocketing inflation.
Following the announcement, all of the big four banks passed on the rate increase in full, with some smaller lenders also following suit.
As interest rates rise, property prices in some markets are dropping, with experts warning we are likely to see falls in housing values become more widespread. South East Queensland is still performing strongly.
In other news, some banks have also moved to curb high-risk home lending of late, cutting debt-to-income (DTI) ratio limits.
If you're looking to make the most of stabilising property prices and buy, or want to check you're on the right rate, we can help you navigate all the changes. Speak with Fornaro today.
Interest rate news
At its June meeting, the RBA lifted the cash rate by 50 basis points to 0.85 per cent.
It was the second month in a row the RBA has increased the cash rate – the first back-to-back rate hike in 12 years.
RBA governor Philip Lowe said while inflation was lower than in most other advanced economies, it is higher than earlier expected.
"Global factors, including COVID-related disruptions to supply chains and the war in Ukraine, account for much of this increase in inflation," he said. "But domestic factors are playing a role too, with capacity constraints in some sectors and the tight labour market contributing to the upward pressure on prices. The floods earlier this year have also affected some prices."
Lowe has previously indicated it was not unreasonable for the cash rate to climb to 2.5 per cent.
If you're one of the many mortgage holders already feeling the pinch, speak to us about your options. We may be able to find you a different home loan that better suits your financial situation.
Home value movements
CoreLogic's national Home Values Index was down -0.1% in May, the first monthly decline since September 2020.
In Sydney, prices fell -1%, while in Melbourne they dropped -0.7%. Canberra saw prices fall -0.1% (its first monthly decline since July 2019).
Other markets proved more resilient. Values were up 1.8% in Adelaide, for example, and in Brisbane they increased 0.8%.
CoreLogic's Research Director Tim Lawless said last month's increase to the cash rate was only one factor causing growth in housing prices to slow or reverse.
"It is important to remember housing market conditions have been weakening over the past year, at least at a macro level," he said.
Mr Lawless noted the quarterly rate of growth in national dwelling values peaked in May 2021, shortly after a peak in consumer sentiment and a trend towards higher fixed mortgage rates.
"Since then, housing has been getting more unaffordable, households have become increasingly sensitive to higher interest rates as debt levels increased, savings have reduced and lending conditions have tightened," he said.
"Now we are also seeing high inflation and a higher cost of debt flowing through to less housing demand."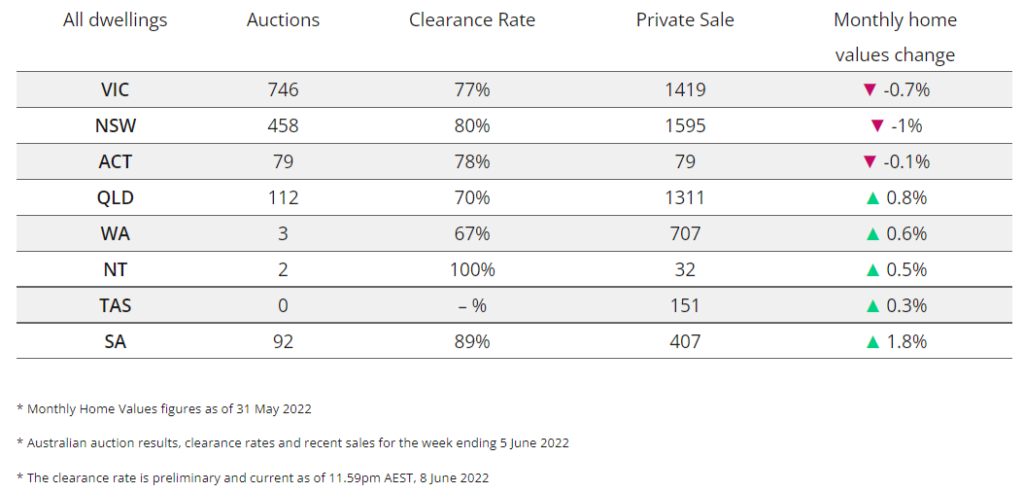 Even though winter has arrived, there are still many homes up for sale and it may be a great opportunity for you to negotiate the price on the home you want.
If you're considering buying soon, it is important to get in touch with us to arrange a pre-approval for a home loan. A pre-approval will help you move quickly when you find the right property and the ability to negotiate with confidence.
Speak with Fornaro about your plans today.