October 2022 Market Update
Household budgets are feeling the pinch of yet another rate rise. The Reserve Bank of Australia (RBA) increased the cash rate to 2.6 per cent, prompting some lenders to increase their variable rates by 0.25 percentage points.
Meanwhile, home values continued to fall across much of the country last month, but September saw the smallest drop since prices began declining in April.
In the market to buy? Make sure you speak to us about lining up pre-approval so you can move quickly on your preferred property during the spring sales season.
Interest rate news
At its October meeting, the RBA increased the official cash rate by a further 25 basis points to 2.6 per cent.
It is the sixth consecutive rate hike aimed at curbing soaring inflation, which reached 6.8 per cent in August according to the Australian Bureau of Statistics' (ABS) new monthly inflation data.
This means the average borrower's monthly repayments for a $500,000 loan could increase by $760–$984.
Economists predict the RBA will continue with another small rate increase in November as it approaches a neutral rate level.
If you're concerned about what the rising rates mean to you and would like to consider your options, please reach out, we are here to assist.
Home value movements
In a welcome relief to homeowners grappling with rising petrol and grocery costs, the rate of decline in house values eased in September. It's the smallest drop in house prices since April.
According to CoreLogic, the loss of momentum in falling values was evident across most of the capital cities and regional areas.
But it's still too early to suggest the housing market has moved through the worst of the downturn.  
"It's possible we have seen the initial shock of a rapid rise in interest rates pass through the market and most borrowers and prospective home buyers have now 'priced in' further rate hikes," said CoreLogic's research director Tim Lawless.
"However, if interest rates continue to rise as rapidly as they have since May, we could see the rate of decline in housing values accelerate once again."
Most cities still have a substantial buffer between current housing values and where they were at the onset of COVID in March 2020. Regional areas remain up almost 50 per cent.
Meanwhile, the spring buying season is off to a slow start.
According to CoreLogic, the number of new listings added to capital city housing markets over the four weeks ending September 25 was -12% lower than the same period a year ago and -10% below the previous five-year average.  Darwin and Canberra were the only exceptions.
"It seems prospective vendors are prepared to wait out the housing downturn, rather than try to sell under more challenging market conditions," Mr Lawless said.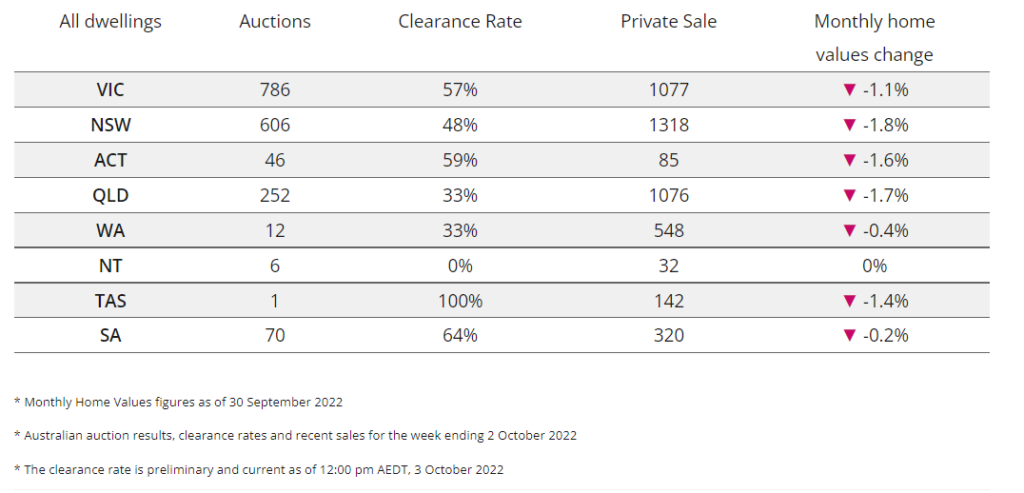 Additional sources
CoreLogic RP Data Daily Home Value Index: Monthly Values
https://www.corelogic.com.au/our-data/auction-results
https://www.realestate.com.au/auction-results/