October 2020 Market Update
Spring has officially arrived, which usually marks the start of the busiest time of year for the property market but this year has been like no other. Australia's housing is slowly emerging from its COVID-induced slumber as the spring property market gains momentum. New data shows a clear shift towards increased interest in regional areas which indicates many individuals are considering a lifestyle change amid the health crisis.
Whether you're looking for a place to live in, upgrading your existing home or looking to buy an investment property this spring, the good news is that interest rates are still at record low levels. Speak to us about organising your finance and pre-approval on a home loan. This will put you in a great position to negotiate on the property you want. But first, here's our latest market news and insights.
Interest Rate News
The Reserve Bank of Australia (RBA) announced it has decided to keep the official cash rate unchanged at 0.25 per cent at its meeting on the 6 October.
In September, the RBA decided to increase the size of the Term Funding Facility and make it available for longer to help keep interest rates low for borrowers and support the provision of credit. The RBA also reiterated that it will not increase the cash rate until Australia is on its way back towards full employment and inflation is sustainably within the 2-3 per cent target band. There have been positive signs in the housing market and a strong rebound in consumer sentiment in the past few weeks. According to data from CoreLogic, new listings are still down but gradually gathering pace.
RBA governor Philip Lowe said that the global economy is gradually recovering after a severe contraction due to the pandemic, but the recovery is uneven and its continuation is dependent on containment of the virus. "The board views addressing the high rate of unemployment as an important national priority," Mr Lowe added.
Home Value Movements
Housing values recorded a 0.1% fall in September nationally on its fifth month, the smallest since values started to reduce in May this year. The decline was entirely driven by the -0.90% slide in Melbourne and a -0.31% in Sydney which make up approximately 40% of Australian's housing stock by number. The rest of the capital cities have all returned to some level of growth and the regional markets continued to outperform their metropolitan counterparts.
CoreLogic's head of residential research for Australia, Eliza Owens said that the last few weeks have shown signs of positive turn in consumer sentiment and in auction clearance rates and volumes. Also, according to CoreLogic head of research Tim Lawless, the low interest rates, reduced number of homes for sale and government incentives had supported the improving market housing condition.
Property Market Activity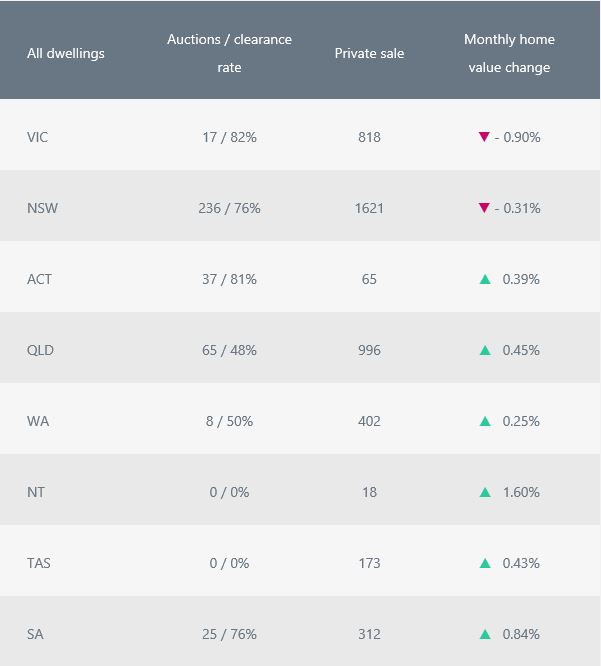 * Monthly Home Values figures as of 30 September, 2020
* Australian auction results, clearance rates and recent sales for the week ending 4 October, 2020. The clearance rate is preliminary and current as at 10:00 am ADST, 5 October, 2020.
While the immediate indicators are showing improvements, the longer-term outlook of the housing market remains uncertain. During this time, you may have questions regarding your current loan, or you might have plans to take this opportunity to explore new property options. Please know that we're here to help you. Give us a call and we'll help you find the right solution for your current financial needs and future goals.
Fornaro are ready to assist you achieve your Property Goals
Interest rates are expected to remain low for a while, so now could be the time to secure the property you want.
To ensure you're in a strong position to negotiate throughout the Spring season, be sure to speak to Fornaro today about your finance application.
Additional Sources:
https://www.rba.gov.au/media-releases/2020/mr-20-24.html
https://www.corelogic.com.au/news/corelogic-sales-and-listings-numbers-reveal-unlikely-city-rebound
https://www.realestate.com.au/insights/aussies-ramp-up-searches-for-new-neighbourhoods-in-wake-of-covid-19/
https://www.corelogic.com.au/news/corelogic-sales-and-listings-numbers-reveal-unlikely-city-rebound
https://www.corelogic.com.au/news/corelogic-hedonic-home-value-index-october-2020
https://www.realestate.com.au/news/covid-proof-regions-where-prices-have-increased-despite-the-pandemic/
This article is for general information only.