January 2023 Market Update
Happy New Year! We hope you had a relaxing and memorable holiday season spent with family and friends.
As some of us return to work and others enjoy the last few sun-soaked weeks of holidays, the property market remains quiet as many vendors hold off for the summer months.
So let's recap how the property market performed last year and look ahead to what's in store for 2023.
2022 home values
While house values rose across most of the country in the first quarter of 2022, they fell sharply in response to the RBA's successive interest rate hikes.
After the monthly rate of decline for the housing markets moderated between September and November, it ultimately finished the year on a weaker note. CoreLogic's national Home Value Index fell -1.1% in December, taking values -5.3% lower over the 2022 calendar year.
It's the first time since 2018 that national home values fell over a calendar year.The 12 months to December also marked the largest calendar year decline since 2008, when values were down -6.4% amid the Global Financial Crisis and successive interest rate rises. 
Despite the downturn, which was felt most strongly in Sydney and Melbourne, housing values generally remain well above pre-COVID levels. Values across the combined regional areas of Australia were roughly unchanged over the year (+0.1%).
"Melbourne is the only capital city where the current downwards trend is getting close to wiping out the entirety of COVID gains, with dwelling values only 1.5% above March 2020 levels," CoreLogic's research director Tim Lawless said.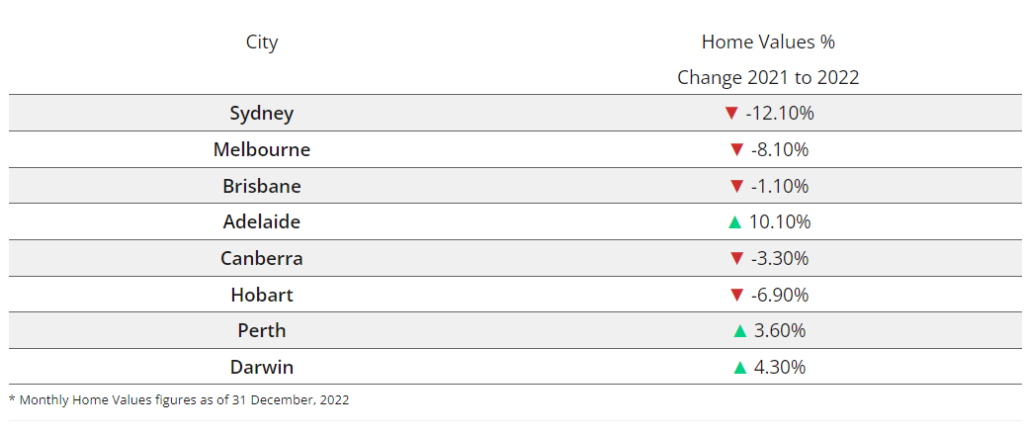 In the market to buy? Make sure you speak to us about lining up pre-approval so you can move quickly on your preferred property.
What's predicted for 2023?
The pain of growing mortgage repayments isn't over yet.
Economists tip more interest rate rises after new data revealed the rate of inflation has risen to 7.8 per cent, marking the highest yearly increase since 1990.
The RBA is expected to raise the official cash rate by a further 25 basis points when its board meets on February 7.
With more interest rate increases expected to further erode borrowing capacity, property market conditions are likely to remain soft over the coming months.
Once the effects of higher interest rates are felt across the wider economy and inflation is brought under control, house values are expected to stabilise.
We're here to help
To kickstart your 2023 property goals, get in touch to discuss your finance options.
Whether you're looking to buy your first home, your next home, an investment property or refinance to a home loan that better suits your needs, we can help. Get in touch today.