July 2020 Market Update
Good news for owner occupiers and first home buyers this month. The HomeBuilder grant may just help you reach your homeownership or renovation goal sooner. Home loan interest rates remain low and with the upcoming Spring buying season, now is a good time to get pre-approved on a competitive home loan.
Interest Rate News
The Reserve Bank of Australia (RBA) announced it has decided to keep the official cash rate unchanged at 0.25 per cent at its meeting on the 7 July 2020.
According to the RBA, the leading indicators have generally picked up recently which suggests that the worst of the global economic contraction has most likely now passed. However, RBA governor Philip Lowe said the outlook remains uncertain and the recovery is expected to be bumpy and will depend upon containment of the coronavirus.
Home Value Movements
Home values remained lower in June as market activity continues to show improvement from April. The Home Value Index report from CoreLogic shows the estimate of home sales activity in June was up by 29.5%. Tim Lawless, CoreLogic's Head of Research, said "The downwards pressure on home values has remained mild to-date, with capital city dwelling values falling a cumulative 1.3% over the past two months. A variety of factors have helped to protect home values from more significant declines, including persistently low advertised stock levels and significant government stimulus. Additionally, low interest rates and forbearance policies from lenders have helped to keep urgent sales off the market, providing further insulation to housing values."
The five largest capital cities have recorded a decline in home values over the month. Melbourne has posted the largest fall over the month, down -1.1% in June. Home values were also down in Perth (-1.08%), Sydney (-0.83%), Brisbane (-0.43%), and Adelaide (-0.19%), but slightly rose in Hobart (+0.34%), Darwin (+0.28%) and Canberra (+0.14%).
Property Market Activity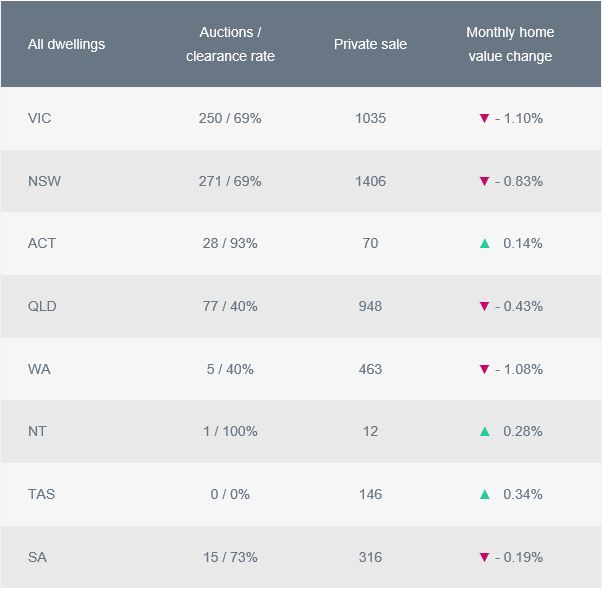 * Monthly Home Values figures as at 30 June 2020
* Australian auction results, clearance rates and recent sales for the week ending July 5, 2020. The clearance rate is preliminary and current as at 10:15 am, July 6, 2020.

Fornaro are ready to assist you achieve your Property Goals
Interest rates are expected to remain low for a while, so now could be the time to secure the property you want.
To ensure you're in a strong position to negotiate heading into the Spring season, be sure to speak to Fornaro today about your finance application.
Additional Sources:
www.corelogic.com.au/research/monthly-indices
www.realestate.com.au/auction-results/
www.rba.gov.au/media-releases/2020/mr-20-13
https://www.rba.gov.au/media-releases/2020/mr-20-17.html
https://www.corelogic.com.au/news/housing-values-decline-second-consecutive-month-june-turnover-recovers-april-low
This article is for general information only.